WBHM Receives Eight Regional Murrow Awards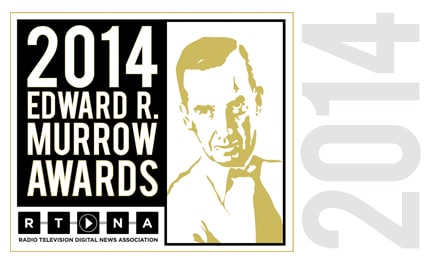 Public Radio WBHM 90.3 FM/WSGN 91.5 has won eight 2014 Regional Edward R. Murrow Awards presented by the Radio Television Digital News Association (RTDNA).
WBHM received more regional Murrow Awards than any other station in the large market radio category. WBHM's competition region includes Alabama, Arkansas, Louisiana and Mississippi.
The awards recognize the best electronic journalism produced by radio, television and online news organizations around the world. RTDNA has been honoring outstanding achievements in electronic journalism with the Edward R. Murrow Awards since 1971.
WBHM won regional awards for Overall Excellence and Large Market Radio Website for www.wbhm.org. Contributors included Scott Hanley, Michael Krall, Dan Carsen, Tanya Ott, Andrew Yeager, Rachel Osier Lindley, Sarah Delia, Larry Owen, Nathan Turner Jr., Greg Bass and Courtney Haden. The awards were given for work broadcast between Jan. 1 and Dec. 31, 2013.
WBHM also won awards for:
- Continuing Coverage: Jefferson County Bankruptcy
- Writing: Andrew Yeager, "Remembering Bloody Sunday as the Voting Rights Act is Challenged"
- News Documentary: Greg Bass and Courtney Haden, "Birmingham's 16th Street Baptist Church: The Case for Justice"
- Feature Reporting: Dan Carsen, "Homebound Student Doing Much More Than Surviving"
- Use of Sound: Dan Carsen, "Homebound Student Doing Much More Than Surviving"
- Reporting – Hard News: Dan Carsen, "Hoover Schools Cut Buses, Trigger Backlash and National Attention"
This is just the latest group of awards WBHM has received in 2014. Earlier this year, Andrew Yeager received the 2014 Judges Award of Merit for Large Market Reporter from the Alabama Broadcasters Association. The award recognized Yeager's body of work throughout 2013. Additionally, Dan Carsen received The Education Writers Association's Second Place Prize for Beat Reporting.
"We are thankful for the recognition of the staff of WBHM by the RTDNA," said WBHM General Manager, Scott Hanley. "It is humbling to be recognized for giving voice to our community and giving perspective to the events of the past year. It motivates us to provide even more meaningful service in the year to come."
WBHM's award-winning reporters Dan Carsen and Andrew Yeager.
"RTDNA is proud to be able to honor the best of local broadcast and digital journalism with these prestigious awards while honoring the legacy of Edward R. Murrow," said RTDNA Chairman Chris Carl. "I would like to personally congratulate all the regional winners and wish them luck as they move on to the national competition."
"The Murrow Awards honor journalism at its finest," added Mike Cavender, Executive Director of RTDNA. "Local newsrooms serve their communities 365 days a year, and we're proud to recognize the great work they do."
RTDNA received more than 4,000 entries during the 2014 awards season, surpassing 2013 by more than 500 entries and setting an all-time record for entries in what proved to be one of the most competitive Edward R. Murrow Awards seasons in RTDNA history. The regional winners are automatically entered in the national Edward R. Murrow Awards competition, which will be judged during the summer.
A complete list of the 2014 Regional Edward R. Murrow Awards winners can be found at rtdna.org.
About WBHM
Public Radio WBHM 90.3 FM, a listener-supported service of the University of Alabama at Birmingham, is "Your NPR News Station" and home to the Alabama Radio Reading Service, a resource for the blind and print-impaired. WBHM programming and award-winning regional journalism also can be heard in North Central Alabama on WSGN 91.5 FM through a partnership with Gadsden State Community College. Listen and give online at WBHM.org and follow the station at WBHM903 on Twitter and Facebook.