Maddox Arrested, Resigns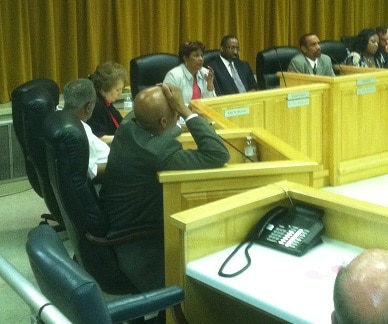 Birmingham, Ala. —
Tuesday morning, Birmingham School Board President Edward Maddox was booked into jail and released a half-hour later on a thousand dollars bail. Tuesday evening, his attorney told reporters Maddox would resign and plead guilty to misdemeanor charges. He's accused of using his position as president of the Woodlawn Neighborhood Association to funnel city money to a charity he founded, Woodlawn Missions and More, and of casting an illegal school-board vote to raise his daughter's salary. His daughter, Melody Alston, is a technology specialist for the district.
The plea to misdemeanor charges means Maddox admits he unwittingly broke the law. The Birmingham News reports a hearing will be held today, Oct. 17, in Jefferson County Circuit Court.
The troubled school system is under a state takeover after an investigation began in April. Maddox was a leader in the slim board majority that fought the state takeover and fired popular superintendent Craig Witherspoon, only to have a judge reinstate him.