Birmingham to Beijing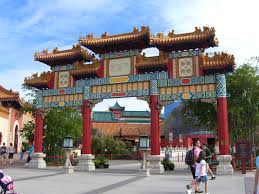 Expanding Horizons and Futures: Six Birmingham Students Headed For China
Lack of exposure to other kinds of people, languages, and ideas is a disadvantage for poor rural and urban students across the country. Inner-city Birmingham is no exception, but six local high school students are hoping to become exceptional … in more ways than one. Thanks to their hard work and the
efforts of a first-year teacher, they're planning to study all across China this summer:
The voice has made its way to a classroom in Birmingham from the other side of the planet. It's about 5:15 p.m. here, 6:15 a.m. there. The Mandarin Chinese lesson begins at Carver High School.
If you knew that Carver's student body was 95 percent African-American and 90 percent on free or reduced lunch,
you might've been surprised it has a Mandarin program. It doesn't. The lesson was after hours,
until almost seven o'clock, and it was Skyped in from Beijing for six juniors planning to study all
across China in July.
Future graphic designer Brian Alexander is one of them.
"I don't know anybody who knows Mandarin Chinese," he says. "So it'll be something nice to
put on a resume in college or in school or in a job."
Student leader and robotics expert Alexander Mays is also going. He has several reasons to be excited:
"Well, other than the fact that it's China, and I've never been to it before, it's a
chance to open doors for my future. I want to be an aerospace engineer with the Air Force, and being
that I will learn Mandarin Chinese from this, I believe it gives me a shoe-in over everyone else."
To apply for the trip, students had to write essays on their past leadership and how learning Mandarin
would further their career goals. History and ACT-prep teacher Wyatt Smith is putting it all together.
He snuck a blog he posted while studying in China into a reading comprehension exercise to slyly cast a net for
curious students. He tells the story of the first example that comes to mind:
"A kid like Kenneth Walton, incredibly hard worker, stayed after school five days a week to
study for the ACT, comes up to me and says, 'Mr. Smith, I really am interested in this China story you
had us read for ACT prep. Can you tell me more?'"
Mr. Smith's answer? "Kenneth, I have an application for you." Kenneth made the cut — he's going on the
trip.
Part of a program called "Youth Leaders of America and China," Alexander, Brian, and Kenneth — along with Cinnamon Callins, De'Aquinetta Gill, and Rodney Moore — will be immersed
in Chinese language and culture in Beijing, Dalian, and two rural western provinces, Yunnan and Sichuan. The whole plan
grew partly from Smith's experiences studying citizenship and democracy around the world on a
year-long fellowship after graduating from college in 2010.
"It opened my mind to so many different ways of thinking and international perspectives," he remembers. "And
so when I started teaching in a high-poverty urban environment, the thing that floored me was just how
little exposure the students had, not just to travel but to ideas. And their understanding of what was
possible was very limited by that lack of exposure."
Smith himself knows a little bit about that:
"I'm a native of Reform, Alabama. There are more cows than people in Reform. And coming
from a rural community, I've experienced the limiting factor of lacking exposure. I feel a really strong
connection with a lot of my students, who also have had cards fall that weren't completely in their
favor."
But this 24-year-old Teach For America teacher says that, thanks to help from others, things are turning
out well.
"People invested in me. I got to go to Vanderbilt University on a scholarship for public service.
And so I carry that as a responsibility to make an impact in my home state. I'm very lucky to be at
Carver High School, and I feel a really strong responsibility to pay that forward."
Speaking of paying, between the cost of airfare, ground transportation, guides, travel documents,
insurance, food, and tuition, we're talking $6,000 per student. That explains why Wyatt Smith's network
of friends and associates is coming in handy, and why the kids are getting crash courses in networking
and fundraising. They have a slick website and they're cranking out videos and thank-you cards as
donations come in.
Speaking of money, what happens if they actually bring in more than they need for the trip?
Says Smith, "The excess funds will go to establishing a Chinese language program in North Birmingham that
allows for these students, when they return to Birmingham, to continue their study."
All this takes planning and strategizing worthy of a chess master. Besides the money, there are little
things like being responsible for six young lives halfway around the world. Most of these kids haven't
spent extended time away from their families. And these responsible, low-income kids are often
caregivers, if not breadwinners, in their households. It's no small thing for their families to sign off on
this big trip.
But the trepidation goes both ways. Cinnamon Callins thinks this trip will boost her efforts to be an international patent lawyer, but some
aspects make her a little nervous:
"Just getting there for the first time, and just being away from my mother for so long —
that's what I'm nervous about. But I'm pretty sure after a while I'll be comfortable and able to just
interact with the people."
Thanks to a lot of extra hours from Wyatt Smith, the supportive staff at Carver, and six hardworking kids,
the planning, learning, and fundraising balls are rolling. In this interconnected world, these kids could
very well become not just Birmingham leaders, but international leaders. And that's actually the plan.