IMMIGRATION LAW: State AG Balks at DOJ Request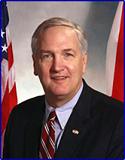 The U.S. Department of Justice, concerned that Alabama's immigration law could keep Hispanic and other students out of public schools, on Monday sent letters requesting comprehensive enrollment information to district superintendents across Alabama. But today, it was unclear when or whether that information would be provided, as state Attorney General Luther Strange challenged the DOJ's authority to demand the data.
U.S. Assistant Attorney General Thomas Perez, head of the DOJ's Civil Rights Division, had asked for information including but not limited to the names of students with unexplained absences in recent weeks, and the numbers and percentages of students who have withdrawn from schools, all broken down by race and national origin, and all by Nov. 14. Some of the data requested in the "preliminary" inquiry would have to be updated monthly. (To see the whole request letter, click here.)
But in a reply today, Strange wrote, "… I was perplexed and troubled to learn that you have personally written to Alabama's school superintendents demanding information related to the pending litigation. Your letter does not state your legal authority to demand the information or to compel its production. If you have such legal authority, please provide it to me by noon … on Friday, November 4, 2011. Otherwise, I will assume that you have none, and will proceed accordingly."
Interim schools Superintendent Larry Craven, formerly the state school system's general counsel, also wrote today to district superintendents, "Given the Attorney General's stated concerns, the most prudent approach … is to permit the parties to resolve their outstanding issues before providing immediate response." Craven's letter basically tells superintendents not to comply with the DOJ request unless he or his department contacts them and tells them otherwise.
Federal courts have put on hold the part of Alabama's immigration law that requires schools to report the number (not the names) of students who can't provide proof of citizenship. That provision was in effect for only two weeks before being blocked by the 11th Circuit Court of Appeals.
In 1982, the U.S. Supreme Court ruled in Plyler v. Doe that immigration status cannot be used to deny a child an education; students cannot legally be penalized for the immigration transgressions of their parents.
Photo of Thomas Perez by Ryan Reilly, Courtesy of Flickr; Home-page photo of Luther Strange courtesy of the state Attorney Genreral's website.