Snow Arrives in Birmingham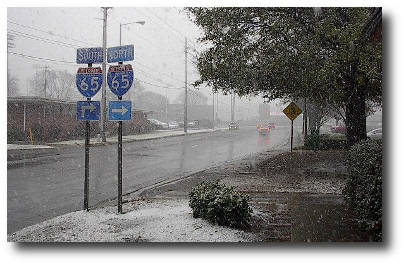 Update: UAB will suspend normal operations and cancel classes after 3:30 pm today and will resume a regular schedule at 10 a.m. Friday.
Snow is falling in Birmingham and across north central Alabama, with forecasters predicting between one and four inches of accumulation.
Some school systems opened late due to concerns about slick roads. Other schools and colleges are closing early or cancelling afternoon activities due to the weather. You can find closing information here.
The National Weather Service said dangerous travel conditions are possible, with bridges and overpasses becoming snow and slush covered. The Alabama Department of Transportation said roads are particularly icy northwest of Birmingham.
The snow is expected to taper off late this afternoon or evening. Temperatures will fall to just below freezing.
~ Andrew Yeager and Associated Press, January 17, 2013