Black Women Don't Exercise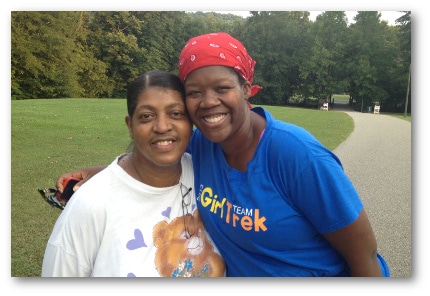 "You know I don't like to get up with the chickens," my mother said.
That's her way of saying she hates waking up early and also her way of declining my invitation when I ask her to go walking with me at 8 a.m. on a Saturday morning.
But I'm determined to encourage my mom be more physically active. I'm determined to make fitness a regular part of her life just as it is such an important part of mine.
As African American women, the odds are against us. According to the U.S. Department of Health and Human Services, four out of five black women are overweight and in 2010 the HHS reported that African-American women were 70 percent more likely to be obese than their white counterparts. Furthermore, African American women are nearly 40 percent more likely to die of cardiovascular disease than white women, according to Centers for Disease Control and Prevention statistics published last year by the American Heart Association.
I refuse to let my mom be a statistic.
Enter Keecha Harris.
Keecha is the leader of the Birmingham chapter of GirlTrek, a national nonprofit organization striving to inspire black women and girls to live healthy lives simply by walking. The national group launched two years ago and through social media campaigns has grown to include over 17,200 women who are logging their walks online. Additionally, GirlTrek has over 154,000 Facebook fans and nearly 1500 followers on Twitter.
Keecha learned about GirlTrek last September through a friend who lives in Washington, D.C. In October of 2012 she decided to take on a challenge to walk for 30 minutes every day for 40 days.
"Before I knew it, I was walking 26.2 miles [the distance of a marathon] weekly and far more than 30 minutes most days," Keecha said. "I have not missed in over 321 days."
After she started walking regularly Keecha applied to be a GirlTrek city representative in Birmingham.
"I applied to be a City Representative because I knew how tremendously good walking had been for me and wanted to share this experience with a city that I wanted to know better," said Keecha, an Atmore, Ala., native.
As president of a public health consulting firm, Keecha travels a lot for work. But she never lets her travels get in the way of her treks.
"Since October, I have trekked in airports, covered 15 to 20 miles on weekends in New York City, become very familiar with Eat Street in Minneapolis, hiked the Virgin Islands National Park in St John, done a second canopy walk at Kakum National Park in Ghana and explored Ensley's Tuxedo Junction by foot," Keecha shared.
And when she turned 40 in June, she and a cousin trekked 40 miles in four days in the Sonoran Desert.
"It was great, hot fun," Keecha said.
GirlTrek Birmingham has about 600 women engaged in its online community via Facebook and hosts a number of walks throughout the week in neighborhoods all over the city and in nearby suburbs.
On a recent hot August day my mother and I attended our first GirlTrek walk. This particular trek began at Homewood Central Park on a Thursday. The walk started at 6 p.m., thus there were no complaints about rising with roosters.
Before each walk begins Keecha asks the women gathered to close their eyes and meditate for a moment. This walk happened to take place the week of the 50th anniversary of the March on Washington and Keecha wanted us to think about the people who walked for miles and miles for the sake of their civil rights. She then shared with us a GirlTrek mantra: "When black women walk, things change."
As the GirlTrek website declares, "Things changed when Harriet Tubman walked. Things changed when boycotters in Montgomery walked. When we walk, things WILL change."
After our moment of meditation, we set off, trekking through and around the park and then zigzagging our way through various Homewood neighborhoods.
We walked for over an hour at a rigorous pace. Sweat poured from my mother's brow and plunged from the tip of her nose. But she never stopped. She never asked to take a break.
When our journey came to an end I wasn't sure if my mom had enjoyed the walk or not. I knew she was tired; I knew she'd gotten a good workout as evidenced by her soaked t-shirt and heavy breathing. But I hoped she'd had fun too.
Before leaving the park we all stretched and Keecha announced times and locations of upcoming walks. There was a trek set for that upcoming Sunday evening at Heardmont Park.
My mom turned to me and asked, "Can we go to that one too?"
Yes, when we walk things change.
Javacia Harris Bowser is an educator and freelance writer in Birmingham. Javacia is the founder of See Jane Write, an organization for local women writers, and the founding editor of SeeJaneWriteMagazine.com.
~ September 10, 2013