A Turnaround at Birmingham-Southern College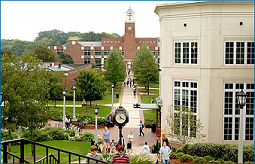 As classes start at Birmingham-Southern College Wednesday, students will find an atmosphere very different from just a few years ago. In 2010, the college faced a financial crisis, leading to deep budget cuts and layoffs.
Joanna Carter knows the effect of those cuts first hand. She started her collegiate career as a dance major at Birmingham-Southern College, but she left when the school shut down its dance program. The move hurt.
"I missed it a lot because I had spent two years there already so I had just started to settle and really make the friends I thought I was going to keep for those four years," Carter said. "It was really difficult for me to transfer and leave all of that behind and start all over again."
The dance program was one of many victims of a financial storm at the school that came to a head in 2010. Accounting errors, overspending and borrowing left Birmingham-Southern with a massive deficit. The college cut its budget by $10 million. Dance and, ironically accounting, were among several majors eliminated. About 80 faculty and staff lost their jobs and those who remained took salary cuts. In the midst of this whirlwind, the school's president resigned.
"The college was as far at the bottom as you could imagine," said BSC political science professor Natalie Davis. She served on the search committee looking for a new leader. The school's unlikely selection for president was General Charles Krulak.
Krulak is a retired marine and a former member of the Joint Chiefs of Staff. He had no previous connection with Birmingham-Southern or experience running an educational institution. But Davis says he was open about the situation and that honesty left a positive impression.
"Ninety-seven percent of faculty thought we ought to hire him right away. I have never seen 97 percent of faculty agree on anything and I've been there forty years," said Davis.
When he started as president in the summer of 2011, he took no salary. He lived with his wife in a dorm. And he started attacking the financial issues.
Krulak spearheaded intense fundraising efforts resulting in nearly $16 million in unrestricted gifts last year. He worked with creditors to restructure the school's debt.
Krulak also dealt with governance. Previously, the college had a board of trustees with 72 members. Such a large board can become unwieldy and lead to poor oversight. So soon after being hired, Krulak told many board members they needed to step down.
Chronicle of Higher Education reporter Jack Stripling said that's a gutsy move.
"The board is his boss. So imagine getting hired and going into a job and saying to your boss 'thanks for hiring me, now will you please leave," said Stripling.
While Birmingham-Southern is not the only private college to face financial troubles, Stripling says the school serves as an important warning to other universities.
"People looked at this as an informative tale of what can happen to an institution over such a short period of time," Stripling said.
Yet after just two years on the job Charles Krulak seems to have Birmingham-Southern in a better position. In June, the school's accrediting agency removed a sanction against BSC after reviewing audits and financial records. Enrollment is up this this fall after a drop during the financial concerns.
"We're hiring faculty, we brought back the accounting, we are going to bring back majors, we are not going to do any stupid mistakes, we are doing it in pace with our revenue, but yes we are bringing it back," said Krulak.
For dancer Joanna Carter, her diploma didn't come from Birmingham-Southern College but she still thinks fondly of the place today.
"I think that the spirit of Birmingham Southern is the same. It is still a great liberal arts school. They are starting to rebuild, but it is a little bit different." Carter said.
It won't be the same, she says, until they get that dance major back.
~Pooja Gajare, August 27, 2013