August 15 Morning Newscast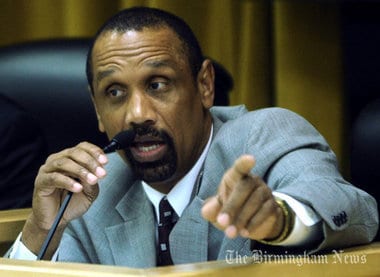 The Birmingham School Board conducted a civil and efficient meeting (photo above) Tuesday night — a drastic change from recent months, during which the board has achieved national notoriety for dysfunction, grandstanding, and personal infighting. A day after a Jefferson County judge reinstated city school superintendent Craig Witherspoon and ruled that state intervention will continue, the Birmingham school board conducted business without the acrimony that has dominated meetings in recent months. State Superintendent Tommy Bice took pains to be respectful — even deferential — to board members. We have more details on the meeting from education reporter Dan Carsen, at our website, WBHM.org
---
MONTGOMERY, Alabama — Former Gov. Don Siegelman says that a presidential pardon is his "last hope for freedom" and continued to criticize the 2006 case in which he was convicted. The Birmingham News reports that Siegelman, who was sentenced to six and a half years in prison, told the Fox Business Network a flaw in the law allowed a jury to infer a crime was committed when it didn't happen. Siegelman will be headed back to prison Sept. 11 after an unsuccessful six-year fight to overturn his 2006 conviction in a bribery case. The Democrat said he is innocent of charges that he sold a seat on the Certificate of Need Review Board to former HealthSouth CEO Richard Scrushy in exchange for $500 thousand dollars in campaign donations to his 1999 lottery referendum.
---
BIRMINGHAM, Alabama — The Birmingham Water Works has fired nine employees as a criminal investigation into wrongdoing continues. The Birmingham News reports that while few details are available, members of the Water Works Board met Friday and again Monday in lengthy closed-door sessions with lawyers to discuss the issue.
Sources close to the investigation say the investigation concerns allegations of false overtime and payments to workers in the utility's distribution department. The allegation involves a supervisor who is accused of granting overtime in exchange for a kickback from each of his subordinates. The sources said the issue was recently reported to Water Works officials by some of the employees in the department..
---