The 2011 Tornadoes: Phil Campbell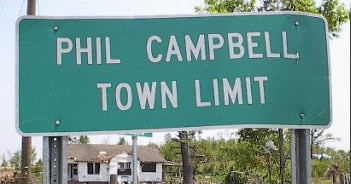 People from around the world will converge on tiny Phil Campbell, Alabama, this weekend. And not just any anybody. People named Phil Campbell. They're coming to help rebuild after an April tornado flattened half of the town, killing 26 people. As WBHM's Andrew Yeager reports, it's a celebration that's taken on new meaning after the disaster.
Brooklyn writer Phil Campbell discovered the Alabama town by accident. It's 1993 and he's flipping channels with some college roommates.
"While we were watching 'Hee Haw' they said howdy to the folks in Phil Campbell, Alabama. It was just too astonishing a thing to hear."
We'll call him Brooklyn Phil Campbell. He confirmed it in an atlas and flew down the next summer to check out the town which shared his name. By the way, Phil Campbell gets its name from a British railroad engineer who established a work camp and a rail depot there. So Brooklyn Phil Campbell is in town on a Sunday afternoon. The police officer on duty calls the clerk.
"And she pulled out a file folder for us of all the Phil Campbells who had ever been through Phil Campbell, Alabama. It was a very mesmerizing idea that like there were other Phil Campbells who visited and made this strange journey to this town."
From that experience, Brooklyn Phil Campbell organized the first ever Phil Campbell convention in Alabama in 1995. Twenty-two Phils and one Phyllis Campbell showed up. It's an amusing idea, but not a lot happened.
"We hung out and grilled burgers basically and exchanged middle names."
The gathering garnered some media attention. It was mentioned in "Ripley's Believe it or Not." But subsequent meet-ups fizzled out. Fast forward to last year when Brooklyn Phil Campbell discovered the town would celebrate its 100th birthday in 2011. So he suggested combing the town's annual hoedown festivities with an international Phil Campbell convention.
"I really thought that was a good idea."
Rita Barton is Phil Campbell's parks and recreation director. She sent almost 400 letters to people named Phil Campbell. Social media expanded their reach. And the interest came pouring in from Wisconsin, Alaska, Scotland and Australia.
"My name is Phil Campbell. I'm from Nottingham, UK."
England Phil Campbell says visiting the town had been on his bucket list.
"So when I found out it was gonna be a birthday I thought there was no better time to go than that."
Another is from Birmingham — Alabama not England. Brooklyn Phil Campbell even reached out to the guitar player in the band Motorhead, of course, named Phil Campbell.
However these were plans made before April 27th, when the killer tornado struck.
"It just devastated us. You know, we didn't think we would have a festival."
But when Rita Barton spoke with Brooklyn Phil Campbell…
"He told me the Phil Campbells still wanted to come to town."
The wanted to clean up, rebuild and help however they could, turning the gathering from one of quirky fun to an unusual civic solidarity based on shared names.
The sink here at the Masonic Lodge is stacked with dishes from the Phil Campbell senior lunch. Juavise Duncan sits at a table having already finished her taco.
"I've lived in Phil Campbell the biggest part of my life."
And she's excited about all these people named Phil Campbell coming to town.
"I think it's very, very nice and put us on the map."
This weekend's convention has attracted attention from media outlets around the world. Besides raising awareness, the Phil Campbells have been raising money. Brooklyn Phil Campbell says they've raised enough to nearly cover the cost of a Habitat for Humanity house. They'd like to build more.
The town's hoedown still includes a parade and music. It's a celebration after all. But the tornado does give it a heavier backdrop. Brooklyn Phil Campbell wonders about seeing the damage firsthand.
"I'm not sure, like emotionally, how this is going to affect me."
Parks and recreation director Rita Barton see the weekend as therapeutic for townspeople.
"It's just a time to get together and have a good time and forget about your troubles and worries."
But as she talks about the weekend and the tornado recovery, Barton begins to tear up.
"I never thought that I would see this many people come to Phil Campbell to help in anyway that they could."
She says she wants to thank all those helping out. Many Phil Campbells are among them.