Imagination Library Cut in JeffCo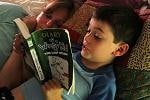 Fund Shortage Disrupts Delivery of Free Books to Low-Income Kids

Jefferson County Branch of Imagination Library Program On Hold

Dan Carsen, Dec. 5, 2011
The Imagination Library, a popular literacy program that delivered a free book to children every month of their lives from birth through age five, is on hold in Jefferson County because of a lack of money.
"It was very distressing to hear. A lot of families rely on it. It's their only source of reading material," said Beth Wilder, president and executive director of the Literacy Council, a community organization combating illiteracy in central Alabama.
Many parents got the news in Monday's mail through a little white postcard from the United Way of Central Alabama (UWCA). It says, "Due to a funding shortage, Imagination Library book deliveries in Jefferson County are temporarily being suspended."
The Junior League of Birmingham (JLB) originally sponsored the program in Jefferson County in 2005. The UWCA partnered with JLB in 2009 and took over most of Imagination Library's local fiscal responsibilities this year. Samuetta Nesbitt of UWCA said Tuesday that enrollment in the program outpaced financial support, and that UWCA and its various partners hope to resume funding book deliveries to 7,000 children in Jefferson County by February of next year. The program costs roughly $23,000 a month and is available to all children, regardless of family income.
"Everybody's making adjustments," said Nesbitt. Donors are forced to make choices, often among programs that provide food and shelter, and "great programs like this one suffer."
She added, "It was a hard decision to send the card out, but rather than disappoint the kids, we wanted to prepare them. We hope the children and families will bear with us through the interruption."
According to Leigh Forstman, JLB President, "The JLB continues to provide volunteers and financial support to the program. We are saddened to hear of the decision by the United Way to temporarily suspend Imagination Library in Jefferson County. We hope the United Way is able to secure adequate funding to continue providing books for the children of our community."
The Imagination Library is part of UWCA's "Success By 6″ initiative, which focuses on getting young children ready for school. As another part of that initiative, at no cost the UWCA sends specialists into daycare centers to test children, strengthen curricula, and help parents and staff find solutions to issues ranging from vision problems to unsafe playgrounds.
Allison Crotwell, mother of a four-year-old and a two-year-old who'd been getting books through the Imagination Library since birth, spoke highly of it: "When I heard there was a program that would help support my children's literacy that way, I was like, absolutely. It was a no-brainer." She added, "I was really impressed with the quality of the books and the caliber of the authors."
The Imagination Library is an international effort founded in 1996 by country singer Dolly Parton and administered through her Dollywood Foundation. Christy Crouse, Regional Director for Alabama, described the situation in Jefferson County as unfortunate. Though she did not have precise numbers, she said funding-based disruptions in book delivery are not common, though they have been happening more frequently in the current economy.
Crouse explained that that national organization covers the costs of administering the program — a book-reviewing committee, the ordering and delivering process — and local sponsor groups cover the cost of the books. The first book delivered is the children's classic "The Little Engine that Could." The final book delivered is Nancy Carlson's "Look Out Kindergarten, Here I Come."
Parton started the effort to ensure that children in her home county of Sevier in eastern Tennessee had access to reading material regardless of their families' income. According to the group's website, 40 million books have now been mailed to children in the U.S., Canada, and the United Kingdom.
Based on data from the National Center for Education Statistics, there are more than 92,000 functionally illiterate people in central Alabama.
Donations to the Imagination Library program in Jefferson County can be mailed to Imagination Library, P.O. Box 320189, Birmingham, AL 35232.
Photo by Woodley Wonder Works, courtesy of Flickr