Fantasy Football: International Edition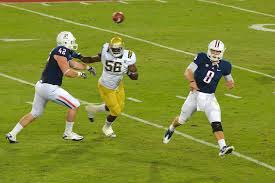 Fantasy Football: International Edition
Everyone knows it's football season, but not everyone plays in a fantasy football league. Actually, you don't even have to know anything about football to play this game. WBHM's Kenan Le Parc reports on the spread of those leagues, and especially on their popularity overseas.
Ahhhh, the sound of Monday Night Football. What a beautiful sound, even for someone like me, who grew up in France with a totally different notion of football. Even there I knew what American football was. I stayed up until the middle of the night to watch the Superbowl, and when I moved to Alabama four years ago, I had to get myself into a fantasy football league. Luckily my soccer team mates from Birmingham-Southern College invited me to join their fantasy league. It was so much fun that this year I decided to start my own league and add my friends from around the world. Some of them keep up with the NFL games every week and even have favorite teams they root for.
Vincent Minier is from Saint-Germain-en-Laye, France:
"I watch the stats of every games, because you have to pick some players from different teams and their stats influences your results so I have to check all the games and it's pretty interesting."
Some of my friends knew very little about the sport. One friend drafted not one, not two, but three kickers to his team. My theory is this might come from the soccer influence on the old continent. My girlfriend — who is of Colombian descent — made me laugh quite a bit when she drafted Chad Ochocinco because of his unique last name, the Spanish translation of his jersey number.
Between laughs, my friend Vincent says that one of the best things about this game is "to make fun of your friends when they're not doing well."
It's not easy for my European fantasy football friends. Alioune D'Almeida from Montrouge, France says he can't watch games in France because he would need an American TV channel. And it's also broadcast very late at night. Still, he makes the sacrifice once a year to watch the Superbowl. It's the only game he's willing to stay awake to watch. It usually starts around midnight and ends around 4 in the morning.
So, the next time you hear the theme song to the NFL games, just know there are fans all around the world making bets on the game, teasing friends they beat or – maybe – turning off their cell phones so they won't receive taunting text messages after a bad loss. It may be American Football but it's spreading one fantasy football league at a time.
~ Kenan Le Parc, October 17, 2011