Bring Your Own Parts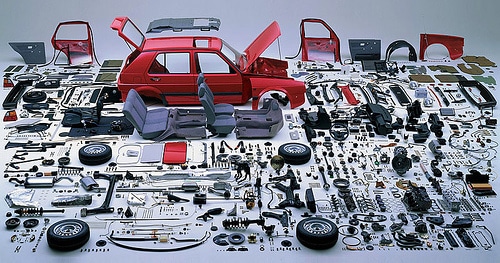 AAA estimates more than 42 million people will travel this Thanksgiving holiday, with most of them taking cars. Of course before you hit the road, you'll want to make sure the car's working properly. A new shop in Birmingham is offering an unusual way to fix your vehicle. You bring your own parts. WBHM's Andrew Yeager takes a look at the potential for this business model.
Wille Sheperd is a proud papa as he looks around the service bays at BYOP Automotive in Homewood. Shepherd is the service manager. He points to a technician with a socket wrench in one hand and head peering into the front end of a car.
"Well, we're going a head job on this one right here. We just got through with this engine on this van . We're just taking an engine out of it and put an engine in."
The BYOP in the store's name stands for "bring your own parts." Co-owner Ves Gray explains how the repair shop works.
"We can do it two ways. You can know that you need an alternator. Call down here. 'I've got an alternator. How much is it gonna cost for me to put it on?'"
Or you take your car to the shop. They'll diagnosis it for a fee. You then go buy the part at a store and bring it back for repair. In either case, you provide the parts. And just pay the shop for labor. Gray says that saves money over a traditional garage or dealership.
"Typically they're gonna have like about a, somewhere around maybe a 50% mark up on parts."
It's an unusual business model. There's one similar store in Texas and two in Michigan. Several automotive analysts I spoke with had never heard of the idea. Phil Magney says though it's creative. He's with the research firm IHS iSuppli.
"People are obviously keeping their cars longer. Maybe a little more active in maintenance and repair."
People may be holding onto their vehicles, but does repairing them with BYOP actually save money? It gets a little fuzzy.
"The truth is most shops make most of their money on labor."
Karl Brauer is the former editor-in-chief of Edmunds.com. He's now with TotalCarScore.com.
"You go down and you look at any service that's done on a vehicle, the parts cost is usually somewhere between maybe 20% and 40% and the labor costs are well over half of the charges typically."
But BYOP owner Ves Gray says you'll pay labor no matter where you go. Your real opportunity to save comes from paying less on parts.
Analyst Karl Brauer says to get savings then, the customer must already have knowledge of car parts or be willing to take time to buy them after the problem is diagnosed. Brauer says that's not everybody.
"The average car owner just wants to take the car in and get it back fixed. They don't want to think any more about it than that and hopefully at as cheap a price as possible."
There weren't any customers at the BYOP shop the day I visited, but one of the vehicles in the garage was a FedEx delivery truck. When I contacted the driver, she said she took it to BYOP for transmission work thinking it would cost less. She told me it actually cost her about the same.
Still Ves Gray says business has been good. Their first location opened in downtown Birmingham in June. The second location in Homewood opened in September.
"And then once we get this down pat, you can franchise this. You can say, 'hey look. This is the way you have to do it.'"
Even though the promised savings may depend on the individual part or the customer's leg work, there's still room for Bring Your Own Parts Automotive to grow. Both analysts believe there is a fraction of the public which doesn't mind the extra effort or wants more control over their cars. When you consider all the drivers on the road, even a small portion represents a sizable market. Especially if you're the only place in town inviting drivers to "bring your own parts."