WBHM Named Most Outstanding News Operation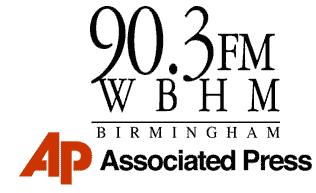 WBHM-FM has won a total of eight Alabama Associated Press awards, including Most Outstanding Radio News Operation and Best Web Journalism in the state.
For the third year in a row, the Alabama AP honored WBHM with the most awards of any radio station in the state. The WBHM news team took top honors in the Public Affairs/Documentary division with Considering Faith, a week-long series and call-in program exploring expressions of faith and non-faith and how various religions co-exist in Alabama. Contributors to the series included News Director Tanya Ott, Morning Edition Host Andrew Yeager, freelancers Les Lovoy, Gigi Douban and Donna Francavilla, commentators Dan Carsen and Marie Sutton, and Program Director Michael Krall.
WBHM News Director Tanya Ott was named Best Specialized Reporter for her coverage of state and local government. This included interviews and profiles of embattled Birmingham mayor Larry Langford.
Morning Edition Andrew Yeager was named Best Anchor and Best Reporter for his coverage of Hurricane Gustav evacuees, Volkswagen's decision to build a plant in Tennessee rather than Alabama, and a prison meditation program.
Former Morning Edition host Steve Chiotakis was named Best Sports Reporter, and Chiotakis and Ott shared honors for Best General Sports for their reporting on a Paralympics sport called Goal Ball, the business behind college fight songs, and a proposal to expand the Appalachian Trail.