Parliament House checks out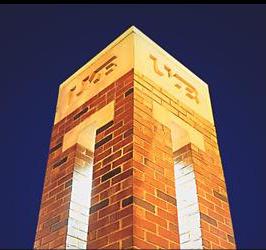 The alarm clock on my cell phone blares. It's God-awful 6 o'clock AM.
Really late for me if it's any weekday. But it's Sunday and my body thinks it's a fluke: How could this be? It's the weekend for God sakes! But I know what's coming up this morning is important for me to see. So I relent, begrudgingly.
No time for coffee. No time to look extra special – just a ballcap thank you, old jeans and a sweatshirt. This is a special day, but it's too early to look special.
Off I go, to a place – well I'm not sure where. If there's a public viewing area, I don't know where it is. Just drive, I think, to midtown, to 20th street, until the cops say you can't go any farther.
There's a crowd gathered near the Kirklin Clinic, caddy-wompus from the middle-aged lady, just minutes before she was coming down. I remember these streets when the Kirklin Clinic was Wendy's Hamburgers and UAB wasn't the University that Ate Birmingham… yet.
The university bought the old Parliament House a few years ago but doesn't have specific plans for the property. But before that, the building had become run down, abandoned by owners who were unable for whatever reason to refurbish the hotel to its better days. Times I remember when my family had a part in that.
So early on a fluky weekend morning, it was time to dissolve the Parliament.
And many people came to see it. Mrs. Horton Emory from Mountain Brook donned pearls and a colorful tweed dress suit for the occasion. She seemed to relish in the hotel's demise.
"I thought it was ugly when it went up and I think it's ugly now. And I think it was a tacky place to go. (Why was it tacky?) If you don't know what tacky means son, you're too old for me to educate you now."
OK, so tacky is in the eye of the beholder. The so-called decorative grates that covered the windows, the angular architecture, the nogihide furniture. All part of its — charm — I guess. Or tackiness
But that tacky hotel had a special place in my heart.
My dad managed what was then called the Holiday Inn-Medical Center – in the early 1980s. He started as Food and Beverage Director there and then was promoted to General Manager. His brother, my Uncle Steve, joined him to help run the hotel. They stayed until they opened a restaurant together in Homewood a few years later.
I was a pre-teen who wandered the hotel's big hallways and ran up and down the circular staircase. I remember seeing Bob Cain at the old Cain Break lounge, eating breakfast on weekend mornings at the Sidewalk Cafe and staying in the hotel for a week when our power was out during the big ice storm of 1982.
Twenty-six years and a month later, the weather was warm and thunderstorms were just to the west.
That didn't stop Miles Garrison from checking things out.
"(Do you think this is something like Las Vegas when they take down one of those old hotels?) Not quite. Not quite the same thing. But it is interesting. It's historic, it's a 47-year old building. And it's got a lot of history and a lot of glory and it's something that's interesting to see."
Interesting indeed. I'd never seen an implosion in person, only the ones on TV or YouTube. So when they started counting down, I felt my heart skip a beat, my nerves preparing for something loud.
The demolition would get off right on time, and the rain would fall just minutes later. And I would go home and go back to sleep, knowing that over the years and up to this very moment, I witnessed part of the life and the demise of a tacky, old landmark that will always be a part of my life and this town.