Elder Exploitation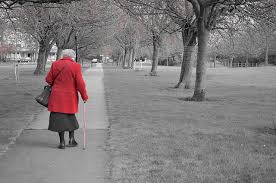 In the stark lobby of a subsidized apartment building in North Birmingham, a flyer warns elderly residents about recent muggings in the area. Perched on the seat of her walker, 72-year-old Mary Williams waits for her visitors with a watchful eye on the door. But she's here today to talk about a different kind of theft.
"Because the one that was with me she take my money and do what she want to do with it. I tell her what I need. She tell me I didn't need it and she wouldn't get it for me. I tell her the first thing I do, the you suppose to do. Whatever I ask you for you suppose to give me."
Williams shakes her head in disgust as she admits her own sister took advantage of her. Unfortunately, her story is becoming more and more familiar. It's estimated for every older adult who reports a crime of financial exploitation, there are 25 who remain silent. Dr. Donna Rabiner of the research company RTI International recently published a comprehensive study of the issue in the Journal of Aging & Social Policy.
"Often times the older person will be ashamed that this happened to him/her and embarrassed and not want to even mention it because they'll be afraid of either for retaliation by the person or that it will be considered as a marker for incapacity and they'll be afraid that they'll be sent to a nursing home."
Even if a neighbor or family member reports the crime, unless the older person is willing to substantiate the claim, the case can't be prosecuted. And if the victim has lost their capacity to think clearly, bringing a case to trial gets even more complicated.
"Typically what I've heard from the field is that prosecutors don't like to try these cases because they are long and difficult. Sometimes the older person does not make a good witness if he or she is confused or nervous or anxious or does not want to bring charges against their relatives, so they're reluctant witnesses at best."
But a new clinical test developed by Dr. Dan Marson and his colleagues the research team at the University of Alabama at Birmingham may detect capability issues before they become problems. Marson is the Interim Director of UAB's Alzheimer's Disease Center, but also holds a law degree, so he's keenly aware of the issues surrounding financial competency.
"About eight years ago our group became interested in financial skills in older adults and how those might change over time. And we were really astonished to find out that there was virtually nothing in the literature both from a conceptual standpoint and also practically as far as ways to assess them."
The team developed a 25-minute financial capacity test, which assesses a patient's basic monetary skills, such as balancing a checkbook, as well as overall judgment skills. This simple clinical interview could become a valuable tool to primary physicians.
"A patient and or family may come to clinic and they may be somewhat concerned about the patient's financial skills. Maybe the family is concerned but the patient isn't. The patient may be reporting that they are just as good as they were when they were thirty. Whereas the family is more concerned because maybe the person is beginning to show more interest in Publisher's Clearing House and the sweepstakes or making bad financial decisions or forgetting to pay bills in ways that are uncharacteristic and represent a departure from their prior baseline."
Marson plans to make the test available for clinical use within the next year, but it's already attracted attention from members of the Adult Protective Services agency.
"For them knowing that this person is very impaired in their financial judgment, really can't manage a checkbook anymore. That would help inform their own decision making as to how vulnerable this individual is and how much protection they need, and would make their job easier."
Only a handful of cities have law enforcement agencies with specialized units to work with older victims. The newly reauthorized Older American's Act and the proposed Elder Justice Act aim to create consistency in the law and provide states with dedicated funding for Adult Protective Services. But for now, prevention is the first line of defense.
At the Clay Senior Center just outside Birmingham, Veda Pittard hands out brochures about the Gabriel Program, a free financial service offered by the Jefferson County Office of Senior Citizen Services. The seniors politely take brochures, but no one signs up. Pittard isn't discouraged. She knows admitting you need help is hard. But just getting the word out is a big part of her job.
The program is the only one of its kind in Alabama and is funded through the Older American's Act. For most of her clients, Pittard serves as their Social Security representative payee. But beyond handling their bills, she is their lifeline to the outside world, and to other resources available through the state and county.
"I had one lady that had lived in her home for forty years. And when her husband died, her son became the rep payee. She lost her home. And when she lost her home, she had to move into senior housing. And she couldn't take her dog, and that's like a member of your family. And you know, she felt like she lost everything. I applied to be her rep payee. And it was approved so I had all her bills sent to our office. And her son no longer has access to her funds."
Mary Williams is another one of Pittard's success stories. Back at her apartment building, she credits the Gabriel Program with helping her regain independence from the sister who controlled her finances for so long. Now — Williams looks to Veta Pittard to give her guidance on everything from finding doctors to buying a much-wanted television set. Williams has advice of her own to share with others in danger of financial exploitation.
"The best is not to have your folks over nothing. Get somebody else, get you a lawyer or somebody else to make get what you want to get. Cause your folks ain't gonna do what you want to do, they gonna to do what they want…since I had this stroke they think I'm crazy…I can't do things for myself…no but I tell them in a minute…they know I'll get off on them in a minute."
– Beneficiary changes a will or insurance policy
– Unusual activity in bank accounts, including large, unexplained withdrawals, frequent transfers between accounts, or ATM withdrawals
– Care of older persons that is not commensurate with the size of their estate
– Caregivers express excessive interest in the amount of money being spent on the older person
– Belongings or property are missing
– Implausible explanations of how assets were used
– Significant changes in spending pattens
– Family members living with the older person who refuse to pay rent or who coerce the older adult to take care of grandchildren without payment
– Suspicious signatures on checks or other documents
– Use of powers of attorney for purposes beyond those for which they were executed