Structure Savers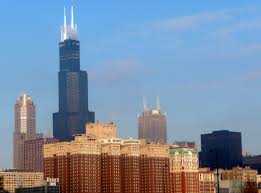 They are structures that were erected at a time when buildings were sculptures, works of art, statements. But time has taken its toll on those buildings and some of them are crumbling.
"When the city was booming so much in the early 20th century, so much was built. And when the city did stagnate in the 60s and 70s, you know, a lot of that was preserved because urban renewal was going through so many cities, but since Birmingham wasn't really growing, there wasn't a need to tear down anything."
Justin Chapman isn't an architect and doesn't work for a developer. He is a city-dweller, a downtown Birmingham enthusiast, who is very interested in getting progress done on the City Federal and others.
But because Chapman doesn't have the title, or even the tools – drafting table, client list, money – he resorts to the simplest and most obvious medium: the internet. A downtown lunch spot offers wired high-speed access and Chapman let's his finger take care of the rest.
His forum: a website called www.skyscraperpage.com. He goes there a lot, posting more than 7-thousand times over the last four years. There, he connects with other like-minded preservationists and urban-renewalists who connect with other like-minded people, who connect with other like-mi — well, you get the idea.
"People are really interested in not only skyscrapers and buildings in general, but the urban development patterns of the cities, what's going on in the different cities and it becomes a comparison between cities and skyscrapers all over the world."
Besides his handle CrimsonARC on skyscraperpage.com, Michael Mann does have the title, and even some tools: he is an intern architect at Birmingham's Hendon and Huckestein Architects. And it was some of those same types of buildings downtown that got him interested in his career path.
Ever since I was growing up, I was fascinated by skyscrapers in general and just how in the urban core of a city, how they tower above different outlying buildings. And later, as I grew up, I realized downtown Birmingham has a nice core of pretty important skyscrapers."
For decades, most of the old buildings were used for office space. But now, many are — or will become — lofts, condominiums or apartments. One of the people responsible for renting out those units is Wanda Anderson, a residential manager for Sloss Real Estate.
"I think Birmingham has – the inner city center – has some of the most beautiful buildings in the country and we waited far-too-long, in my opinion, to renovate them. But we're making up for it. I think it's exciting downtown. There's a real real interest in supporting downtown and moving downtown."
On any given day, Anderson says she answers as many as 20 inquiries about Sloss' rental units downtown.
She says the housing market downtown has exploded in recent years. From just a handful of loft apartments ten years ago to more than 500 units downtown by the end of this year. And most of them will likely be gobbled up by young urban professionals or married couples without kids or empty nesters who want to live in an urban core.
"Right now, if you find something you like, you better rent it. Or buy it. Because it'll be gone."
"It's a remarkable level of interest and enthusiasm in the community."
Michael Calvert is president of Operation New Birmingham, an organization that has made revitalizing old buildings one of its core objectives.
"There is an obvious affection that many people have for these historic buildings that they grew up with, in some cases fallen on difficult times, and they want to see them refurbished and really celebrate that when it happens."
Calvert says ten years ago, his organization laid out a plan to reduce vacancies in more than 240 buildings downtown. Today, that number is at 95 and still shrinking. Among them: the City Federal, the old 20-story Cabana Hotel and Brown-Marx Tower.
And with more people getting involved in their fates, those buildings are likely to be given a second chance… or third chance, or fourth. Just this month, a development company – Synergy Real Estate — announced it has an option to buy the old City Federal building and develop it into more than a hundred luxury condominiums. Company officials say a deal with Birmingham Parking Authority officials this week paves the way for work to begin in earnest. Surveyors have already been examining the property.
Now that it's likely to be converted, Justin Chapman wants to be one of the first tenants inside the old marble, neo-classical high rise.
"I think this is going to the project that really gets the ball rolling on everything. People are going to look at City Federal and it's going to be the time and look and say this is when downtown Birmingham started changing."
And in living in the City Federal Building, Chapman says he wants an up-close view of the progress he and others are helping to bring about online and out in the streets.