12 Days of Christmas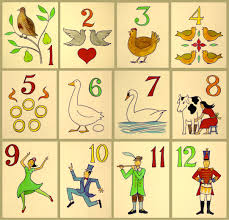 Okay, here we go: the 12 Days of Christmas. Since we're a lot closer to the 12th Day than the first, we're gonna do them backwards. So, on the 12th Day of Christmas, my true love gave to me: 12 drummers drumming. That's easy enough to find in Birmingham.
"I'm Mark Libby, principal percussionist of the Alabama Symphony.
Melanie: So what is the going rate for a drummer drumming?"
Mark: Union scale is a 108 bucks for a performance, so, yeah, 12 of those, that's gonna add up!
So 108 times 12: $1,296 dollars. Okay. Next. 11 Pipers piping. Hmmm?
"I'm Lisa Wienhold, the principal flutist at the Alabama Symphony Orchestra."
Lisa will play for the same 108 dollars as the drummer, which means 11 pipers at 108 dollars equals $1,188. Though she says the pipers might charge a bit more depending on playing conditions. Like if the pipers are having to dodge Lords a leaping or something. Speaking of, since Birmingham is a little short on royal families, where am I gonna find ten Lords a Leaping?
Perhaps the phone book? Hmmmm… Lomax, Long, Lopez, Lorant, LORD! Here we go!
"The Lord Residence."
Melanie: Oh, yes, Hi! Is this Mrs. Lord?
"Yes it is."
Melanie: Hi, My name is Melanie Peeples; I'm with WBHM Public Radio. I'm wondering do you have any leaping experience? Are you a leaper by any chance?
"Uhm?"
Melanie: Because I?m trying to find some Lords to do a bit of Leaping for my true love.
"Well, there are 4 Leaping Lords locally, but you need a quantity of them.
Melanie: I do, I need 10 of them.
"We just don't have 10. Have a couple of Lords in the Carolinas and then there's a group of Lords on the West Coast."
Melanie: If we paid for the transportation, would they be open to that?
"Oh, I'm sure; we don't get together very often… mostly because of the expense."
Melanie: So maybe you'd give me a break on the price of the actual leaping.
"Well, we could, it would depend on how long we needed to leap, and
at our age having 10 Lords Leap around, that whole experience would be priceless, you know".
Melanie: So maybe we should have insurance?
"Well, either that or a good sturdy cot to lay down on. (laughs) I'm sort of thinking it would be 10 dollars an hour."
Melanie: Okay. Ten dollars an hour!
"That would be a bargain.
Melanie: Oh, that?s definitely a bargain.
100 for the Lords plus the cost of flying 6 of them here: with tax and airport fees: $1,171. Dollars. Not bad for 10 Lords a Leaping. Hmmm?now for 9 Ladies Dancing.
"When you only want the best. Go a step above the rest. SAMMY?S! the South's finest Showgirls!
NO! not that kind of dancing.
Ladies from Birmingham's Modern Dance troupe, Southern Danceworks, will perform for you for a thousand dollars a performance. Each, but that does include their rehearsal time. So, that's 9 Ladies Dancing?$9,000 dollars. A little more than you might spend at Sammy's! But, then you don't have to supply any poles. Or bouncers.
Moving on. 8 Maids milking.
"I'm Destiny Bearden. I'm a vet student at Auburn University; my family owns a dairy here in Vincent, Alabama, so I'm the maid a milking."
Melanie: Now, have you had many requests to be a maid a milking?
"No, Ma'am, this is my first."
Now, all the cows at Bearden's dairy get milked by machine, but Destiny says she'll do it by hand for 10 dollars an hour plus 2 dollars a gallon. She figures she can milk about 8 and a half gallons an hour, so that's a total of $27 dollars for one maid a milking. Destiny's a very friendly girl and I have no doubt that in the name of true love she could talk 7 of her friends, cousins, or sisters into helping out. Bringing the price of 8 maids a Milking to $216.
Next – seven Swans a Swimming. Now swans a swimming are pretty quiet. Except for that little whistling noise you hear being made by one of the Birmingham Zoo's Black necked swans. Tim Snyder is curator of birds."
"That's just his way of communicating and you?ll see when they do their courtship that whistling is part of their courtship."
Melanie: Any idea about how much those run?
"Black necked swans would probably be running between $600 and $800 each."
So, we'll say $700 each. That's $4,900 dollars for seven swans a swimming. And six geese a laying?
"Well, per goose, these are domestic geese so they're readily available and your basic barnyard goose and for an adult goose you're probably gonna pay 20, maybe 30 dollars," says Time Snyder.
Split the difference at $25 times 6 equals $150 for the six geese a laying.
Next? Five Gold rings.
"Hi, this is Rhoda, welcome to Levy's; We're so glad to have you with us today."
Rhoda, as it turns out, has rounded up 5 different kind of gold rings.
So any price you want, we can do it in gold.
Together, those 5 gold rings in different kinds of gold will run you: $1,035. What do we have left? 4 calling Birds, 3 French Hens, 2 Turtle Doves, Partridge, heh, we can get all of these at one place!
"Well, hello there! Welcome to Ed's Pet World!
It's Ed, himself!
"How are you?"
Melanie: Great, thanks! I'm looking for some birds for my true love.
"Well, we've got birds. Any kind you need. Calling Birds? French Hens?
Turtle Doves?"
Melanie: And I'm hoping for a partridge and some pear trees.
"We can do that, too. Partridge and Pear tree.
We're gonna say the Calling Birds are Canaries, and Ed can get four of them for $516. The 3 French Hens…
"Hello, French Hen!
He can get for $150
And the two turtle doves are $59.99 a pair.
"Hey doves! Hoo, hoo, hoo."
So what about the partridge in a pear tree?
"Now Pear trees, I don't know about Pear trees, I think about 20 bucks for a pear tree, but a Partridge? They're not too expensive: $15 a piece."
Melanie: And what is a Partridge?
"A quail."
Melanie: And do you have any in stock?
"No quail."
Melanie: But you could get me one?
"No problem!"
Melanie: And we just need one, right?
"NO! We need 12."
Oh, yeah. Did you forget? The singer doesn't give just one gift on each day. He gives that day's gift and all the previous days' gifts. So, that means not one partridge in a pear tree, but 12 Partridges in 12 pear trees. And not two turtle doves but 22 turtle doves. So the total price is gonna be – oh, I'm gonna need some time for this. Why don't we roll back through the song while I do a little calculating.
Instrumental version of 12 Days of Christmas
So, the grand total for the 12 Days of Christmas in Birmingham?
$90,108.89 Better start saving now for next year!
Melanie Peeples, January 6, 2005
MELANIE'S MATH
What each day?s gift (on its own) would cost:
12 Drummers drumming: $1296
11 Pipers piping: $1188
10 Lords a leaping (with airfare): $1171
9 Ladies Dancing: $9,000
8 Maids a Milking: $216
7 Swans a Swimming: $4,900
6 Geese a laying: $150
5 Gold rings: $1,035
4 Calling Birds: $516
3 French Hens: $150
2 Turtle Doves: $49.99
1 Partridge in a Pear Tree: $35
What each day of the 12 Days costs:
Cost of 12th and final Day: $19,706.99
Cost of 11th day: $18,410.99
Cost of 10th day: $17,222.99
Cost of 9th day: $16,051.99
Cost of 8th day: $7,051.99
Cost of 7th day: $6,835.99
Cost of 6th day: $1,935.99
Cost of 5th day: $1,785.99
Cost of 4th day: $750.99
Cost of 3rd day: $234.99
Cost of 2nd day: $ 84.99
Cost of 1st Day: $ 35.00
Add up each of the 12 daily costs (tax not included) and you get the grand total: $90,108.89!