WBHM Wins Five Regional Murrow Awards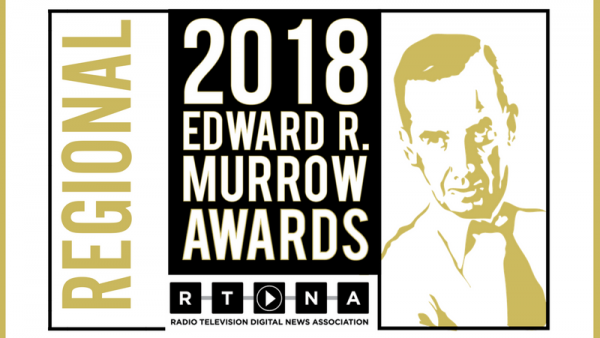 WBHM has won five 2018 Regional Edward R. Murrow Awards presented by the Radio Television Digital News Association (RTDNA) for the region including Alabama, Arkansas, Louisiana and Mississippi.
The awards recognize the best electronic journalism produced by radio, television and online news organizations around the world. RTDNA has been honoring outstanding achievements in electronic journalism with the Edward R. Murrow Awards since 1971. The awards were given for work broadcast between Jan. 1 and Dec. 31, 2017.
"Every day our newsroom operates with one standard: excellence in journalism," says General Manager Chuck Holmes. "This prestigious recognition is an honor and an opportunity to remind ourselves that the most significant reward is the ability to inform and serve our community, day in and day out."
WBHM won awards for:
"We're thrilled to see the hard work of our news staff recognized with this tremendous honor," says WBHM News Director Gigi Douban. "Our audience looks to us for consistently honest news and information. We're committed to continuing to tell compelling and engaging stories on a diverse range of issues."
This year, from more than 4,400 entries, 785 regional Edward R. Murrow Awards in 16 categories this year recognize more than 307 local radio, television and digital news organizations across the country and internationally.
"At a time when it's fashionable to bash so-called mainstream media, it's more important than ever to recognize the extraordinary work of dedicated journalists who serve communities across our country," said RTDNA Chairman Scott Libin. "In cities large and small, representing a wide variety of ownership groups, these news organizations show why Americans trust local journalists to report fairly and accurately about issues that matter."
"Each year RTDNA is proud to honor the very best in broadcast and digital journalism through the Edward R. Murrow Awards and, by extension, highlight to the public why outstanding responsible journalism is essential to their daily lives," said Dan Shelley, RTDNA Executive Director.
Regional winners automatically advance to the national Edward R. Murrow Awards competition. National awards, including those for network news organizations, large digital news organizations and for students, will be announced in June. The national awards are presented at the RTDNA Edward R. Murrow Awards Gala at Gotham Hall in New York City on October 22, 2018. This year marks the 110th anniversary of the birth of the father of broadcast journalism, Edward R. Murrow,
A complete list of the 2018 Regional Edward R. Murrow Awards winners can be found at rtdna.org.