Weekend Edition with Scott Simon: Live at the Lyric Theatre FAQs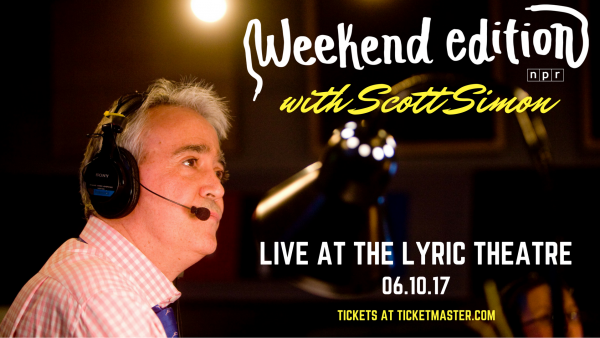 Chances are your Saturday begins with listening NPR's Weekend Edition on your radio. On June 10th, you can start your weekend by watching Scott Simon broadcast live from Birmingham's historic Lyric Theatre. The historians at the Lyric tell us that this is quite possibly the first every radio broadcast from their stage. We hope you'll join us for this exciting, once-in-a-lifetime event!
FAQs
Where do I get tickets?
Tickets can be purchased through Ticketmaster, ticketmaster.com.
How long will the live broadcast last?
A little more than two hours. Weekend Edition is live from 7 – 9 a.m. CT. WBHM currently rebroadcasts the first hour from 9 – 10 a.m. CT so you don't have to get up as early to hear the whole show.
What time do doors open?
Doors open at 6 a.m. In order for this to be a successful showcase from Birmingham, all ticket-holders must be seated by 6:30 a.m. We know that's early, so we don't mind if wear your pajamas and bunny slippers.
Will there be an intermission?
There will be no intermission. There will be introductory remarks about what you will be seeing and hearing, and the live broadcast begins precisely at 7 a.m. That's why it is important that everyone be seated and settled by 6:30. Since this is a live broadcast, it is important that audible interruptions, such as doors opening and closing, phones ringing, and the like, be kept to an absolute minimum.
Does my ticket purchase support WBHM?
Actually it does! All proceeds benefit the station and we appreciate your support.
Will there be food and drinks available?
The Lyric Theatre will be selling coffee, but doughnuts from We Have Doughnuts are on us!
Will I get to meet Scott Simon?
Immediately after the show, Scott records show updates for stations carrying the program in other time zones. There will be no opportunity to get books or other memorabilia signed by Scott before, during, or after the live broadcast.
Scott has, however, graciously agreed to be the guest speaker at a Gala Dinner for WBHM on Thursday, June 8, at The Florentine. Find out more about this once-in-a-lifetime opportunity! Seating is limited. All proceeds from the Gala Dinner will benefit WBHM.
Well, who will I get to meet?
After the broadcast, the show's executive producer, Sarah Oliver, will take your questions. And some of your favorite people from WBHM will be there as well!
We look forward to seeing you on June 10!