Your Chance to Meet NPR's Scott Simon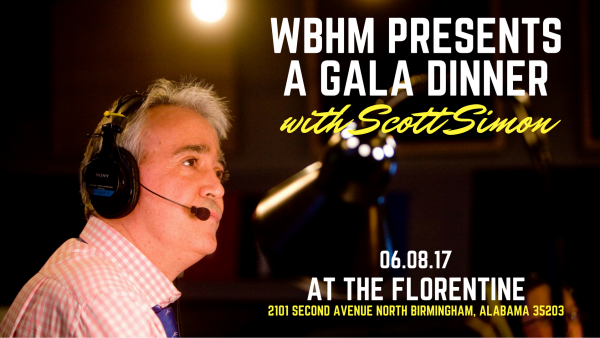 GALA DINNER
with
SCOTT SIMON
BROUGHT TO YOU BY PUBLIC RADIO WBHM 90.3 FM
Scott Simon is among NPR's most-beloved hosts and his Saturday broadcast reaches 3 million+ listeners worldwide. He has won every major award in broadcasting, including the Peabody, the Emmy, the Columbia-DuPont, the Ohio State Award, the Robert F. Kennedy Journalism Award, and the Sidney Hillman Award. Scott is also a prolific author, writing about civil rights, baseball, his beloved hometown city of Chicago, among other topics.
This Gala Dinner is a unique opportunity to treat yourself, your family, your clients, or valued employees who are fans of public radio to a once-in-a-lifetime evening with Scott. Here are all the details!
JUNE 8, 2017
THE FLORENTINE
2101 Second Avenue North Birmingham, Alabama 35203
6:00 P.M. COCKTAIL RECEPTION
6:30 P.M. DINNER
If you have questions about the dinner or The Florentine, please contact  Charmaine Brown, UAB Events, 205-934-0771. For all other questions, please contact Audrey Atkins, WBHM, 205-934-0130.
Valet Parking Available
Business Attire
If you are interested in purchasing a table or need further information, Audrey Atkins or Chuck Holmes, 205-934-0130.