The 50th Anniversary of the Public Broadcasting Act — A message from GM Chuck Holmes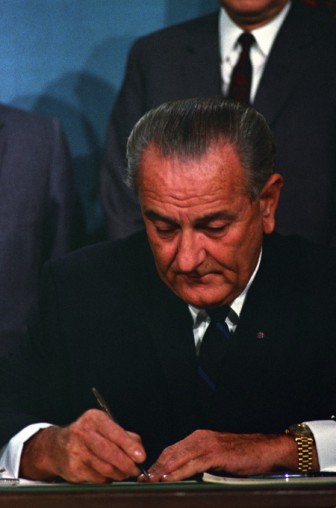 The public airwaves. That's how most people listen to WBHM. By tuning into the lower end of the FM band. (Though for many of you, that's quickly changing in the digital age with our online stream and our smart phone app.)
Most likely, your radio is preset to 90.3 FM and listening comes at the touch of a button. But consider that place on the dial for a moment. Because our position there was carved out on your behalf by farsighted policymakers with noble intent.
Fifty years ago on Nov. 7, in the East Room of the White House, the president and a bipartisan collection of lawmakers gathered to celebrate and sign into law the Public Broadcasting Act of 1967.
The act created the Corporation for Public Broadcasting, and NPR, and PBS, and eventually led to WBHM, your NPR station in Birmingham.
The idea was simple: Set aside part of America's airwaves to guarantee that public interests are served: information, education, and cultural affairs programming.
At the time, robust and sometimes raucous commercial radio was expanding with rock and pop stations and partisan news/talk formats.
Public radio is radio apart, non-profit and non-commercial and intended to serve you.
President Lyndon B. Johnson explained it this way:  "In 1862, the Morrill Act set aside lands in every state — lands which belonged to the people — and it set them aside in order to build the land-grant colleges of the nation.
"So today we rededicate a part of the airwaves — which belong to all the people — and we dedicate them for the enlightenment of all the people."
WBHM was created in 1976 and our signal later extended to 91.5 FM WSGN in Gadsden and 104.5 FM in Fort Payne.
Our signal stretches across the heart of Alabama. Our audience is bigger than ever. And we're working hard every day to uphold those ideals declared 50 years ago.